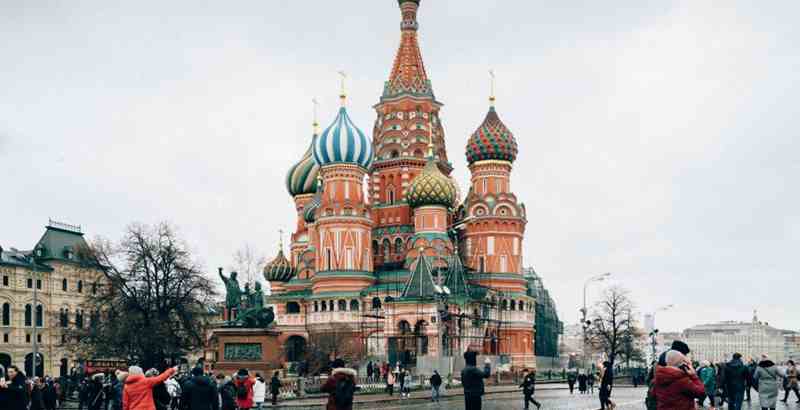 Tourist Attractions in Moscow
Moscow is the capital city of Russia, a country with a very interesting and intriguing culture and history, and there are many things to see and places to visit for anyone who comes for a visit.
Below is a small selection of attractions to visit or experience during your stay in this beautiful, and architecturally unique, city, but, of course, Russia is more than only Moscow.
Moscow – Kremlin: Skip-the-line Ticket and Introduction Tour
This 40-minute introduction tour of the Kremlin will teach you not only about the Kremlin, but also about other city center highlights, in English. Your guide will give you an admission ticket to the Kremlin, point out where to rent an audio guide, and can give you recommendations and answer a lot of questions you might have about Moscow and Russia.
The ticket will allow you to skip the line, pass the security and enter the Kremlin without having to stand in line to get in. This tour is the perfect way to get acquainted with the historical site even before entering it.
Moscow: 2.5-Hour Luxury River Cruise with Dining Option
See Moscow from a different angle by taking a journey along the Moscow river on a boat with panoramic windows and views, an open top deck, and a bar and restaurant. This tour begins either at the Gorky Park or the Ukraine Hotel, the latter one of the Seven Sisters of Stalin. Some of the places you will see are the Kremlin Palaces and Cathedrals, St. Basil's Cathedral, Moscow Music Hall, Red October Chocolate Factory, and Crimean Bridge.
Combine the tour with a nice meal in form of an exquisite lunch or dinner option in the restaurant while looking out over the water and the beauty of Moscow. You also have the option to rent an audio guide in your own language, and spend your time on the upper, open deck for the scenery. This tour is recommended to take during the evening when all the lights are turned on in the city, giving it a magical atmosphere.
St. Basil's Cathedral and Red Square: Private Tour and Ticket
St. Basil's Cathedral is a colourful and astonishing building in the middle of Moscow, on the famous Red Square. The onion-like tops of the Cathedral rise on top of nine churches all set within this grandiose building, and this tour will give you a guided access to see it with your own eyes. This is an integral part of Russian history, and the building itself is recognised by both young and elderly across the world.
The tour will also take you past Lenin's Mausoleum, and you will learn why it is still so popular with the public even today.
You will get to walk around Red Square and the guide will introduce you to the history of this place that Soviet citizens call home.
After all this you can see the changing of guards in the Alexander Garden. This is a ceremony held daily in honour of the fallen soldiers of the Great Patriotic War (WWII).
Moscow: Hop-On Hop-Off Bus Tour and Boat Options
One way of exploring Moscow is with the help of the Hop-On Hop-Off Bus Tour. There are three different routes and the option of adding a boat tour to choose between, or maybe even do all of them. The concept is simple, you buy a 48 or 72 hour ticket and within those hours you can hop on or hop off the route of your choice as many times as you want to. Hop on at one place and hop off at another to explore the sights of Moscow in your own pace and order. Hop off for lunch and hop on again once you have satisfied your hunger.
If this is your first visit to Moscow this is a great way to start touring as it gives you a view and an idea of where the different places are, and if you want to explore them further, either on this trip or the next.
Moscow: CityPass 1-5 Day Option
If you are coming to Moscow for one day or more, and you are planning to see as many sights as you can then this CityPass is a great option. You can choose between a 1, 2, 3, or 5-day pass, and it activates from the first activity you register, meaning you can buy it and start using it on a different day if you choose to do so.
This pass allows you to enjoy the free entry to over 40 top attractions in Moscow, including the Hop-On Hop-Off Bus (1 day only), a river cruise and guided walking tours, and it comes with a fast track option allowing you to skip the lines.
The CityPass also comes with a free guidebook and a city map, including a map of the metro system, and it usually has a number of different discounts and offers to some of the best restaurants and shops in the city of Moscow for you to explore.
Moscow: Golden Ring Russian Folk Show
Spend an evening enjoying this 2-hour live stage-show full of colour, song and dance while introducing you to some of Russia's fascinating history through cultural Russian dances. This show is educational fun for you and your family, all at once. The Golden Ring show is one of the oldest dance performances in Russia for a reason.
Allow yourself to be swept away by the stories, the art of the dances, and the different costumes while learning about the differences between the areas of the country.
There is an option to add hotel pick-up and drop-off service with the ticket, making sure you can easily bring your whole family as stress-free as possible to see this magnificent show before returning safely at your hotel afterwards.
UNBEATABLE VALUE CAR RENTAL

FREE
Amendments,
FREE
Cancellations,
NO
card fees!

airport_shuttle Need Airport Transfers?
Useful Information about Moscow Sheremetyevo Airport